The Building History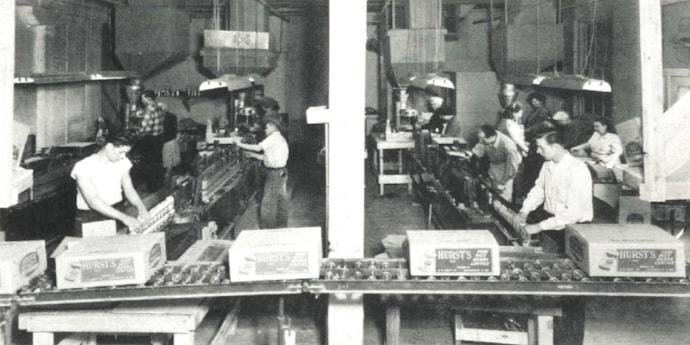 The N.K. Hurst Co. Inc. building was built in 1906 and was first used as a printing company. It was then used by Kroger as a produce warehouse for Central Indiana. N.K. Hurst Co. Inc. purchased the building in 1947 to use as its headquarters, office spaces, packaging center and warehouse distribution center for dried beans, peas and lentils as well as sweeteners such as cane sugar, beet sugar, and corn syrups. N.K. Hurst Co. Inc. sells and distributes dried beans to customers in all 50 states as well as to the U.S. Military in the United States, Europe and the Pacific Rim. In 2017, N.K. Hurst Co. Inc. moved its dried bean packaging to a new facility, and in 2019 moved its seasoning packet production to the new facility as well. This is where the transition of the space between a factory and an event center begins.
The First Event
The first event that took place at the N.K. Hurst Co. Inc. building was the Peyton Manning Gala. The Gala utilized both floors as well as the parking lot.
The N.K. Hurst Co. Inc. Building Today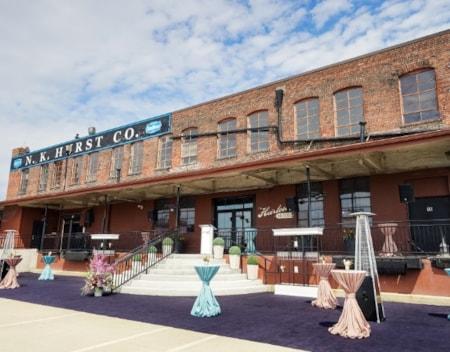 The building started the remodeling process in early 2021 to be transformed into an event space for weddings, corporate events, non-profit events, and more. Now called The Heirloom, the space highlights its history with original brick walls and wood flooring, making for a beautifully rustic ambiance for any event. The open concept layout and portable bar units allow for the ability to customize the space to fit your needs. The outdoor mezzanine/terrace makes for a great atmosphere for cocktail receptions. Not only do the all-glass garage doors provide spectacular outdoor sights, but they can be opened up to bring the fresh air in too! The entertainment suite is decked out with a bar, fridge, pool table, TV, and lounge furniture perfect for a green room space or pre- and post-ceremony hangout spot. The meeting and conference room space is complete with a table for 8, TV, lounge seating and even vanity stations for pre-event dressing room space.
Related Topics: The Heirloom News, Downtown Event Venues, Social Events & Parties, Charity & Fundraising Events, Corporate Events, Weddings